EMM Main Blog
By Every Man Ministries

Sun Dec 1, 2013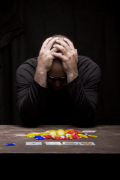 When a simple handshake "bet" between friends on Sunday's game becomes an overpowering, heart-racing compulsion, you might want to check yourself. Whether it's a roll of the dice, flip of a card, a big game or a number in a race, too often the pleasure of a possible big payoff costs more than your hard-earned cash.
It's no great surprise that gambling is popular among millions of Americans. Vegas was built on "donations." As much as $5 billion is spent on gambling in the United States every year.
Yet, I offer serious caution against gambling. Unfortunately, the odds are against you and it leads to a destructive, behavioral addiction. A simple search online about "gambling addiction," surfaced this:
With every bet, gambling releases dopamine in the brain, the same neurotransmitter triggered from drug or alcohol use.
Gambling addicts all too often experience financial ruin, accruing tens to hundreds of thousands of dollars in debt.
The cycle spirals downward quickly as many addicts turn to crime to payback debts and afford the next rush.
The destruction leads to despair and eventually gambling addicts have a high rate of attempted or successful suicide.